Yeebo Touch Panels: from concept to production
One touch at the flat screen is enough for the user to interact with a professional or consumer device, thanks to the improved user interface offered by projected capacitive touch technology. For the designer, then, it is valuable to be aware of the latest developments and technology trends when designing a new human-machine touch interface.
With comprehensive touch screen technology know-how, market experience and production capability, Yeebo is on hand to help designers accelerate each phase of new product development.
At the concept stage, a consultation with Yeebo's field-based engineers offers insights over the issues influencing product features, user experience and budget constraints of a touch interface.
As the design begins, through its technology's portfolio Yeebo's R&D team delivers invaluable advice about the touch panel that best suits the application. Recommendations include: One Glass Solution (OGS), which is ideal for cost-sensitive applications as its simple structure integrates touch sensor and cover lens into one glass layer; Glass/Glass (GG), where individual touch sensor and cover lens layers are optically laminated to ensure optimal touch operation under challenging environmental requirements; and Glass/Film (GF), which offers effective drop resistance to handheld devices through the lamination of film touch sensor and glass cover lens layers.
Yeebo's guidance extends to functional, performance and aesthetic aspects affecting the cover lens design, comprising increased thickness and chemical or heath process treatment for superior mechanical resistance; anti-reflection and anti-glare surface coating for best readability; anti-smudge layer for reduced fingerprint and anti-microbial coating for safe touching; and customised shape, cut-outs, drilling holes, multi-colour printing and 2.5D edges.
Throughout the product development, Yeebo's application engineers assist designers with integrating the touch panel and its interface into the end product and collaborating on the steps to design validation.
With in-house manufacturing featuring state-of-the-art processes capable of coating Indium-Tin oxide (ITO) with a tightly controlled sheet resistance, Yeebo produces touch sensors with unrivalled electro-optical characteristics and optimised circuit layout. In combination with a wide choice of optically bonded TFTs, Yeebo's touch interfaces deliver stunning quality over the long term.
Contact Yeebo Display Europe today to start discussing your next project:

+44 (0) 203 287 6886
info@yeeboeurope.com
www.yeeboeurope.com
Yeebo enhances TFT displays with curved lens and coating technologies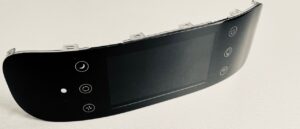 With a record number of industries actively digitalising their infrastructures, displays are an effective interface to enrich communication with the end-user. Starting with smart wearables and up to electric cars, products using TFT displays have helped push boundaries in terms of form, fit and function.
From the days when displays used to fill a fraction of the user interface area, TFTs are now taking a significant section of the front panel surface thanks to increasing pixel resolutions and touch-sensitive cover lenses that have displaced mechanical knobs and switches. Cover lenses, bonded directly to TFT or embedded in touch systems, have played a key role in expanding designers' creativity. However, while flat surfaces and straight angles are commonplace, new designs crave 3D curves and freeform shapes to maximise user interaction and ergonomics.
As a leading manufacturer of TFTs modules and One Glass Solutions (OGS) touch panels, Yeebo has added design and manufacturing expertise in curved cover lenses projects through collaboration with industrial designers, customers and worldwide partners. Whilst dashboards in electric cars and motorcycles have adopted curved cover lenses quite earlier, applications taking advantage of this trend have extended to personal care and medical devices, ticketing and entertainment systems, portable instrumentation and telecommunication.
Specific surface treatments of the cover lens complement every customised project, be they either an anti-reflection coating for optimum sunlight readability, an anti-smudge treatment for smooth finger operation, or an anti-microbial coating for safe touching. With in-house and outsourced capabilities Yeebo is well placed to recommend the perfect surface coatings for each target application environment.
Contact Yeebo Display Europe today to enhance your creativity on your next project: www.yeeboeurope.com
#design #displaysolutions #tftdisplay #project#touchscreen #touchpanel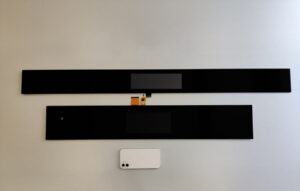 The benefits of optical bonding in noticeably enhancing readability under all shades of light, preventing fogging as well as absorbing shocks and vibrations, are well-known in rugged and outdoor human-machine interfaces.
In most cases, though, optical bonding seems to be confined to a single connection between the cover lens or touch panel and TFT. When a project requires bonding multiple TFTs within a single cover lens or just a screen in a relatively wider cover lens, the approach needs a rethink.
Through extensive know-how in optically clear adhesives and bonding processes, and worldwide market experience, Yeebo has honed its technology to cater for multi-screen optical bonding. The technology, which is scalable to cover lenses as wide as 1,000 mm, is particularly suited to shelf labelling systems and digital signage applications housing several displays, rack-mounted letterbox user interfaces in broadcast studios, and consumer & professional appliances.
In a typical configuration, customers use two or more Yeebo's 3.9" IPS TFTs (YB-TG480128S01A-N-A0) optically bonded to a single cover lens.
Yeebo's optical bonding technologies do not stop at flat cover lenses: they now include curved surfaces to open a new array of designs and applications. From mobile ticketing devices and access control systems to marine navigation dashboards and dynamic information displays, Yeebo's curved lenses are set to stimulate a new wave of ergonomically sound, innovative TFT designs.
Contact Yeebo Display Europe today to stretch your imagination on your next project:
+44 (0) 203 287 6886
info@yeeboeurope.com
www.yeeboeurope.com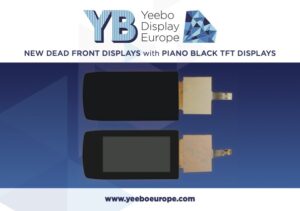 Yeebo adds visual impact with Piano Black TFT displays
Designing the user interface of today's applications is getting more refined thanks to Yeebo's expertise in TFT module design and market applications. With vertically integrated cover lens and touch panel manufacturing, and a highly automated TFT facility, Yeebo is the natural partner for developing display solutions that push the limits of visual interface design on aesthetic, performance and functionality.
One component attracting growing interest in recent TFT designs is the cover lens. Not only does a well-crafted cover lens protect the screen from mechanical impact and weather conditions, but it also contributes to the overall visual appeal of the final product. Choosing the best cover lens no longer stops at its basic features – material, shape and décor options. New requirements demand that the TFT visible area is purely dark when the screen is inactive, blending display and cover lens with no visual distinction.
Yeebo is at the forefront of cover lens designs with a technology developed by combining low-transflective glass and an engineered optical bonding adhesive. By controlling light transmittance within the stack, the cover lens system completely conceals the TFT when inactive, creating a distinctive Piano Black look.
With this unique feature, companies eager to differentiate the aesthetic of their products, whether it's a smart health monitor, pro audio equipment or home automation system, can now ensure they stand out from the competition.
Contact Yeebo Display Europe today to discuss how to integrate Piano Black TFT displays into your next project:
+44 (0) 203 287 6886
info@yeeboeurope.com
www.yeeboeurope.com
IPS TFT Modules from Yeebo
Manufactured on robotic production lines in a highly automated facility in Jiangmen (China), Yeebo IPS TFT displays are instantly recognised as top-quality products and competitive in price.
The full range, available with multi-touch options at no added NRE charge, focuses on providing B2B customers with superior image quality, slim package and outstanding reliability in any chosen size from 1.3" to 10.1".
Unlike traditional TFT, Yeebo IPS displays boast up to 1000:1 contrast ratio, up to 700 cd/m² luminance, all-round viewing and rich colour saturation to finely reproduce eye-catching information under any lighting condition. Designers involved in crafting next-generation devices in healthcare, industrial and consumer electronics, smart city and transportation applications will benefit from this portfolio of power-efficient and highly performing TFTs, whose driver ICs incorporate digital gamma correction and clever driving circuitry. For designs featuring upgradable display sizes, the common signal interface available on Yeebo IPS 3.9", 4.3" and 5.0" flexibly supports resolutions rising from 428×128 letterbox aspect ratio to 480×272 (16:9) and 800×480 (5:3) respectively.
Equally, marketing and product development teams will enjoy the versatility that Yeebo IPS displays offer: pixel resolutions from 240×240 to 1280×800, portrait or landscape mounting, and a choice of signal interfaces – SPI, MPU, RGB, LVDS and MIPI – to support low-cost microcontrollers and up to feature-rich ARM processors.
Contact Yeebo Display Europe today to get started on your project:+44 (0) 203 287 6886
info@yeeboeurope.com
www.yeeboeurope.com